Tip # 1:  Create a marketing plan for social media before you start
As with any action in the corporate world, it is necessary to make a pre-execution plan. The same goes for social media. Developing a digital marketing plan will put you on the road to success and help you avoid mistakes on social media. Learn how  to create a digital marketing plan  and watch your social media flourish.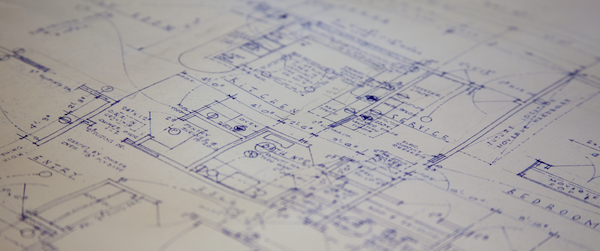 Tip # 2:  Conduct an audit of your presence on social media
Before creating a new social media profile, conduct an audit of your current digital presence. Social media audits are useful for gathering all your social profiles and passwords. To help you make one, use our  social media audit template  to get you started.
Tip # 3:  Your social media strategy needs to incorporate digital engagement
Thinking about digital engagement in your social media strategy can be a real threat to your company's digital presence. For successful digital engagement, here are 3 steps: be proactive , always listen and be engaging .
Tip # 4:  Know when to outsource your social media management
Many companies, big or small, are subject to the same problem: should social media management be maintained internally or outsourced? When it comes to deciding to give the keys to your social media accounts, weighing the pros and cons takes time.
Tip # 5: Measure your social campaigns with Google Analytics
Your website is the cornerstone of your company's online presence. Alongside your website is a great help: social networks. It's important to integrate your presence on social media and your website to continually drive traffic to your online resources. After directing social media traffic to your site, the next step is to measure the fruits of your labor to improve. As always, this is where Google Analytics comes in handy.
Tip # 6: Social Media Monitoring is the Most Often Missed Opportunity
On social media, people have the power to say whatever they want about your business and your brand. It can be positive or negative. No matter how or why they share their feedback, it's important not to miss the opportunity to watch your audience on social media. There are 3 ways to take advantage of social media monitoring. This blog post describes them and offers much more.
Tip # 7:  Any business should be on LinkedIn
You've probably heard this many times but I'd like to stress once again: LinkedIn is no longer an optional option for the company, big or small. This social network provides your business with credibility, an extensive network of professionals, sales opportunities and a marketing platform.
Tip # 8:  Learn how to schedule tweets to save time
Social media tools like Hootsuite eliminate the stress of managing multiple Twitter accounts with the ability to schedule tweets. Discover our 3 tips for tweeting at the best time .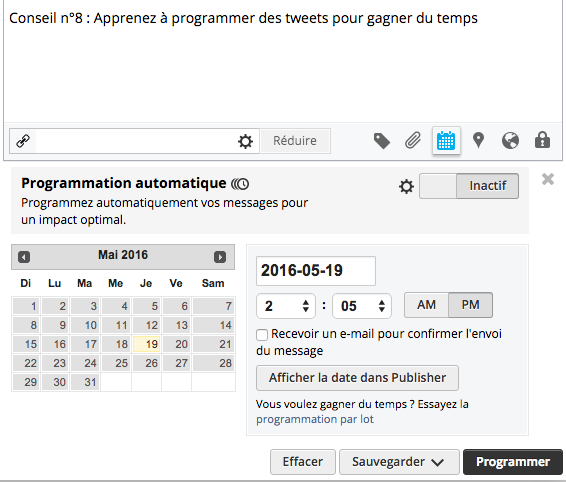 Screenshot of the Hootsuite Programming feature
Tip # 9:  Avoid digital strategy errors at all costs
Knowing what to incorporate into your social media strategy is the key to success. But do you know what should  not be  published on social media? Common tactics that can affect your social media presence are many. This blog post highlights errors to note on your list of "things to avoid".
Tip # 10:  Tell all skeptics that social media is a chance for their business
There are many people who support the use of social media as part of the business, but there are still skeptics who do not see and understand their benefits to their business. Our barometer in partnership with Adetem and Visionary Marketing explains the importance and impact today of social media in the marketing strategies of French companies.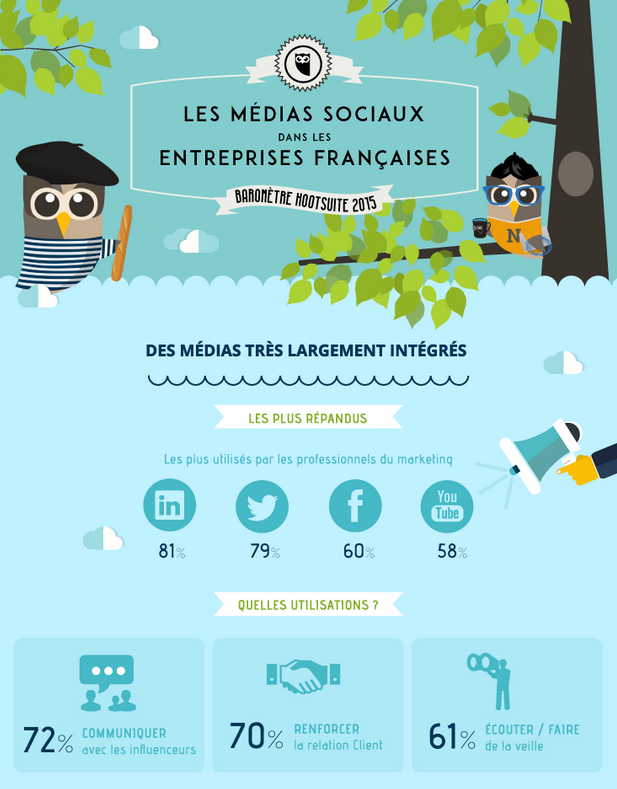 Continue Reading
Our consultants assist you in project management or fixed price: definition of your Web strategy, operational design of your projects, audits and recommendations.
Your goals
Be enlightened about the evolution of the interactive universe
Make your brand / offer known to a targeted audience
Define or recast your digital strategy (Web, mobile, social networks …)
Meet the expectations of users of your applications
Boost your online sales
To support you in your relations with specialized service providers
Our expertise
Positioning strategies and target analysis
Competition Studies
User audits & analysis of the existing
Feasibility study, prospective studies and prototypes
Architecture definition
Development of scoping notes and specifications
Media Campaigns & Digital Marketing
Assistance for project management
Concretely
It is not always easy to see clearly in the evolution of the Interactive Universe , nor to know what is necessary to succeed to make live your company or your brand in the digital world.
The modes  follow the modes, and there as elsewhere, the prophets do not miss …
How to make the good choices  when you must engage projects over several years?
Novactive puts its consultants  at your disposal to guide and design your project , in accordance with your objectives. We can support you in the long term definition of your Web and Mobile strategy , as in the operational design  of a project, or the Project Management Assistance . Throughout our 15 years of existence , we have always cultivated two values ​​that are useful when it comes to choices: pragmatism  and the quest for quality  in the long term. 
Continue Reading